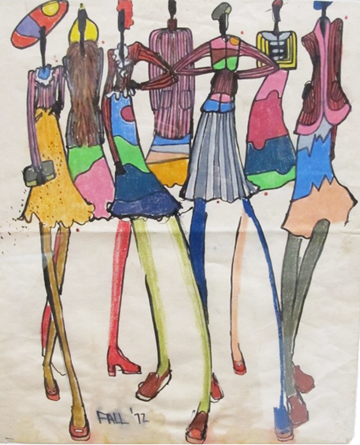 Fashion Show Segments
The current slate of segments for the 2018 American Style fashion show include the following list. This list is subject to change as the Fashion Show Chair sees the entries HCCC members share at garment reviews and in the sewing challenges. Please remember, to be included in the show, all garments must go through a garment review.
The Layered Salad. As Studs said, we are a layered salad. This segment will show how American fashion is influenced by ethnic styles—think about embroidery from Mexico and India, or Asian silk prints, Scottish tartans, Italian brocade, a Russian kosovorotka, or a Caribbean quadrille dress.
Channeling American Design. Use an American fashion designer as inspiration to create your own garment in their style or sew a pattern from that designer – this can be modern or vintage.
Iconic Style. What iconic style best represents you? Is it preppy, biker, vixen, athlete, Harajuku? Need more inspiration? Think Michelle Obama, Marlon Brando, Diane Keaton, JayZ, Gwen Stefani.
Sportswear is Everywhere. Sportswear runs the gamut from what we wear to work to what we wear to play. Think coordinates, separates, pants and jackets, blouses and skirts, jumpsuits and rompers. Even bathing suits.

The Way We Wore (aka American Style Over the Years). This segment is for all of you who are inspired by vintage or retro fashions.
Couture Cos-Play. From Steam Punk to Anime to conceptual costume, the sky is the limit in this segment...actually, there is no limit.
Absolutely Accessorized. This segment is to spotlight accessories. We want them to pop! Wear a simple black garment to showcase accessories you've made. Make it a statement necklace, hat, scarf, purse, shoes, furbelows, etc.
Inspired by Visual. This segment would use a single image, a Stephen Burrows fashion sketch (shown here), as a launching pad for interpretation of our own designs. You could create any garment of your choice in response to his illustration. I think going from visual, instead of words on paper, is an interesting way of stimulating our creativity. You may have already seen this image on the garment review form, but I present a clearer image for your contemplation here.


Challenges become show segments, too, but you do not have to enter the challenge to be included in the show. Fashion show challenges are fun, inspirational sewing goals. Challenge garments are presented and judged at a meeting
and one (or more) winner is selected from the entries.
Visit the individual Sewing Challenges section for more information about the individual challenges:
Pattern Mash-up present garments at February 3rd meeting
In's & Out's: Blazers, Jackets & Coats present garments at April 7th meeting
For questions about the challenges, segments, or the 2018 fashion show, please contact Mary Kay Blaschke at
mkblaschke@att.net.
---