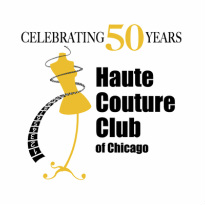 History

The origin of the Haute Couture Club of Chicago goes back to 1962 with English tailoring classes offered at the Chicago YMCA by Chicago's first female tailor, Helen Barker.

Helen Barker had learned tailoring in England under the trade system, where an apprentice labored many years to progress to the title of Master Tailor. Barker brought the same mentoring system to her students and no one advanced to the next step of construction until the work was carefully reviewed…and redone if necessary. The requirement for successful completion was strict.

Barker's first students graduated with completion of a classic notched-collar suit or coat. They pondered where they could go next to keep up their skills and settled on the idea of a social club where members would enjoy the camaraderie and pleasure of discussing their sewing projects. Thus, in 1964, the Haute Couture Club of Chicago was founded.

As more students graduated from Barker's classes, they were eligible to join the club. As membership expanded, new events were added to the calendar. Monthly meetings soon expanded to include an educational element and, after Barker's death, new instructors provided opportunities to learn other garment construction techniques. In 1966, the Haute Couture Club staged its first annual fashion show, setting the tradition that continues today.

The club today enjoys a membership of approximately 160 members, greatly diverse in both ethnicity and age. Opportunities for education, inspiration and friendship are offered to both members and nonmembers alike, continuing the mission of the club as originally intended.