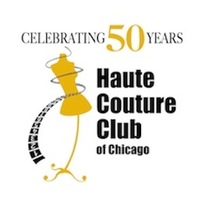 Tailor made from the start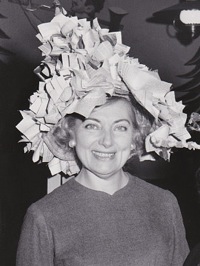 Helen Barker
While searching through the archives of Haute Couture Club memorabilia, we came across a newspaper article from an October 1985 issue of the Chicago Skyline. These excerpts recount the origins of the club and provide a glimpse into the background of the club's mentor and advisor, Helen Barker (shown at right).

Chicago's first female tailor, Barker was indeed knowledgeable about her subject. She served an apprenticeship for two years in London, was a major clothing designer for Marshall Field's, and for many years has worked as an independent fashion consultant.

Barker said she was first approached about teaching an English tailoring course by a friend who was working at the Central YMCA Community College in 1962. "That was some 20 years ago," the Lake Shore Drive resident said, "and I considered the offer with a certain uneasiness since I hadn't taught before. English tailoring represents a very high level of craftsmanship, as each garment is designed with a meticulous attention to detail. Ninety-five percent of the work that goes into a garment is done by hand," she said.

After she gave it a try, Barker found teaching to be a rewarding experience. "And I was fortunate because my students were creative, enthusiastic and willing to learn."

Miss Barker, as her students would call her, loathed the loving-hands-at-home look. No Stretch & Sew for her. She would proudly broadcast that her students were not interested in patterns that you cut out at 10 am and wear by 4 pm.

After one, two or more sessions of English tailoring, students completed classic notched-collar suits and coats. Pondering where they could meet to talk about their latest sewing projects and maintain their tailoring skills, they settled on the idea of a social club. This way members could enjoy the camaraderie of kindred spirits and wear their finest creations. Though informal at first, the group became more established after inviting Helen Barker to become their advisor. With a faculty advisor, the group gained benefits from the YMCA…one being meeting space. The year was 1964 and the Haute Couture Club was born!

As more students 'graduated' from Barker's classes, they were eligible to join the Haute Couture Club. Educational programs were presented at monthly meetings and in 1966, the club staged its first fashion show, establishing the tradition that continues today.

The sudden illness of Helen Barker precluded her continued leadership and members considered disbanding. However, a decision was made to seek out alternative instructors and continue with classes and meetings. With new instructors came new energy thus bringing a wide range of ideas to members.

After MUCH discussion, the club eliminated the notch-collared garment requirement and opened its membership to all sewers with a passion for garment construction.

Excerpted from Chicago Skyline newspaper October 10, 1985 by Dominic Calabrese and Kim Okabe.

---